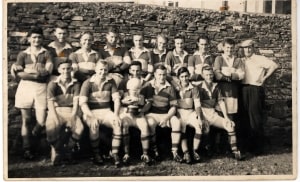 1959 – Kilmihil win the Cusack Cup for the first time.
In March 1959 the first round of the Cusack Cup took place at Clarecastle, between Clarecastle and Kilmihil. The match ended in a draw and produced some first-class football. The prominent members of the Kilmihil team were Eddie Cotter, Pat Galvin, Sean Duggan and Michael Browne.
The final score was: Kilmihil 0-2 Clarecastle 0-2
Kilmihil next met Kildysart and proved themselves to be superior to Kildysart in all phases of the play.
The final score was: Kilmihil 2-8 Clarecastle 0-2
In June 1959 Kilmihil reached the semi-final in which they beat Cooraclare by a 5 point margin. The match was played in Kilmihil in torrential rain.
The final score was: Kilmihil 2-2 Cooraclare 0-3
"Both teams had their stars, Kilmihil's man of the match was undoubtedly centre half-back Cotter, who did a tremendous amount of work, and did it well. His long raking clearances went a long way towards the winning of the match, and his catching of the greasy ball was a joy to watch. Carmody in goal for the winners was very sound, and made a number of good saves under pressure. Full-back, Duggan also had a good game, while the second half display of the other backs, M. O'Grady, P. Cotter, J. Finucane and S. Currane was good"
Kilmihil Team: John Carmody, Michael O'Grady, Sean Duggan, Pat Cotter, Senan Currane, Eddie Cotter, John Finucane, Pat Galvin, Dan Finucane, James Mc Mahon, Finn Callinan (Capt.) Martin Hedderman, Michael Currane, Sean Lineen and Michael Browne.
The 13th September 1959 was a very big day in the history of the Kilmihil Club, not only because of the opening of the Park, but also on that day they won the Cusack Cup, and defeated their old rivals Kilrush. The Clare Champion of 19th September has this to say about the game:-
"This has been a season of upsets and surprise results in Clare Football circles, and last Sunday there was another surprise at St. Michael's Park, Kilmihil, when the local side humbled Kilrush Shamrocks, who have been tops in all Senior competitions in recent years, when they beat them by 2-6 to 0-4, in the Final of the Cusack Cup Competition. THIS WAS KILMIHIL'S FIRST TIME TO CAPTURE THIS COVETED TROPHY, AND THE VICTORY CAUSED GREAT REJOICING BY LOCAL GAELS. Kilmihil fully deserved to win. They were the better team for most of the hour, and the Shamrocks had no answer to their speedy thrusts goalwards on many occasions. The locals played with rare determination for 60 minutes, under a broiling sun. When the end came they were chaired off the field by excited and jubilant supporters. About 3000 people watched the game, and even the most rabid Kilrush supporter admitted afterwards that they were beaten by a fitter and better team on the day. Kilrush F.C.A. band played the teams on to the field, and then played the National Anthem at the start. The Shamrocks never seemed to get their scoring machines going, and on many occasions they became a ragged looking side, with a defence which became spread-eagled, far too often, with the result that Kilmihil got the scores, and the two vital goals, to win the Cup.
In Dan Finucane, Kilmihil has a sound right-back while his inside man, Sean Duggan, played a rattling good game at Full-back. Indeed the full-back line was a tower of strength, as the man on the left, Eamon Cotter played himself to a standstill, in seeing that Kilrush would not break through his wing. Eamon Cotter was about the best of a good trio of half-backs, while Finn Callinan and P.J. Moroney hit up such a partnership at mid field, they controlled this sector of the field practically throughout the game.
Martin Hedderman, Pat Galvin and youthful Richie Pyne were forwards, who made scoring look easy on this sun baked pitch. P. Downes at full-back for Shamrocks played soundly, his spectacular clearances, when Kilmihil were all over his side, being a feature of the game. Raymond Clancy did his best at centre half-back, but taken all round, this defence was well rattled at the end of the game. P. Carey, who fought heroically against heave odds, F. Meaney, M. Fitzpatrick and J. Griffin were best in an attack, which never got going in the way this team has been noted for.
In the first half Kilmihil had a slight wind advantage. Early Kilmihil attacks were repelled, and while the players were getting all set for the fray, in the opening minutes neither side had an advantage. In one of these early attacks however, Galvin punched the ball into the Kilrush square. Goalie R. Lynch stopped it entering the net, and when J. Clancy was fouled 30 yards out in another Kilrush attack, Griffin sent the free wide. After Currane punched the ball in, it hit the upright and hopped three or four time in front of the Kilrush goal before being cleared from in front of the posts. A 21 yards free by Pyne was knocked down and turned round the posts for a fruitless 50.
In this opening 10 minutes , Kilmihil continued to have the better of the exchanges, and following further heavy pressure on the Shamrocks' sorely tried defence, P. Galvin pointed from a 40 yards shot. Finucane then cleared a 40 yards free, taken by Meaney for Kilrush. Then the locals cheered lustily when J. Mc Mahon after getting possession of a loose ball 21 yards out, brought the Kilrush goalie to a full-length, but fruitless dive, with a fierce drive which went all the way for Kilmihil's second goal.
Finucane, who was playing very well in the Kilmihil defence, cleared from Meaney after he collected a Kilrush free. The score was still 2-1 to nil in favour of the homesters at the beginning of the second quarter. In a Kilmihil attack Pyne was fouled 14 yards from the Shamrocks' posts, and he pointed the resulting free, to put his side further ahead in the 17th minute. Carey soon after made a full-blooded race for the Kilmihil goal, but he was fouled going through, after several opposing backs tried to take the ball off him. 8 minutes before half-time, Hedderman added another point to Kilmihil's total.
The football at this stage was somewhat better than in the drawn Co, Championship Final at the same venue a week earlier, and long raking kicks were the order of the day by both defences. F. Meaney went back to the half-back line, and M. Daly moved to the attack, in a Kilrush effort to turn the game in their favour. But the wearers of the green and gold were still on top. In fact Kilmihil were dominating every part of the field. When Shamrocks made their first determined attack, S. Clancy was fouled in the 29th minute, and he pointed the 14 yards free, to leave the half-time score
KILMIHIL 2-3 KILRUSH 0-1
A few minutes after the re-start Fitzpatrick put Kilrush on the attack, but his shot went wide, after he received a nice pass from Mangan. Fitzpatrick then had a low shot, which hopped menacingly near the woodwork and went wide. Meaney next punched wide, and when Carey was fouled Griffin sent over the bar for Shamrock's second point from a 25 yards free, in the 4th minute of the second half. When everyone thought Kennedy was going for a goal in one of the Kilrush all-out attacks, hr sent over the bar for a minor, when well placed 21 yards out, in the 7th minute. O'Halloran replaced J. Clancy at this stage. P. Galvin had another point for Kilmihil, mid-way through the second half, after he was tackled hard. With a 8 point lead Kilmihil seemed home and dry. They forced a 50 which was cleared, and when they came back again Moroney drove wide. Galvin did likewise after a great solo run, and Pyne was next to shoot on the wrong side of the upright. Kilmihil were however, out fielding and outpacing their opponents. From a 30 yards free Griffin passed to Meaney, whose shot was saved by Kilmihil's Duggan. Fitzpatrick then wided, but in the 28th minute Carey pointed for Kilrush. When Shamrocks were awarded a 21 yards free Griffin tried for a goal, but failed. In the 29th minute Pyne got Kilmihil's last point from 35 yards out. Full time arrived with Kilmihil winning by 2-6 to 0-4.
Mr. Hugh O'Donnell, Ennis, once again gave a creditable display as Referee, and he quickly finished any incident which crept into the game."
Final Score: KILMIHIL 2-6 KILRUSH 0-4
Team: John Carmody, Dan Finucane, Sean Duggan, Pat Cotter, Michael O'Grady, Eamonn Cotter, Johnno Finucane, Finn Callinan (Capt.), P.J. Moroney, Martin Hedderman, Michael Browne, James Mc Mahon, Senan Currane, Pat Galvin & Richie Pyne.
1959 Intermediate Championship
In August 1959, Leitrim beat Lisdoonvarna in the Intermediate Championship by 0-8 to 0-5.
Team: V. Halpin, Michael O'Grady, Sean Duggan, Eamonn Cotter, Dan Finucane, Johnno Finucane, Patrick Griffin, P.J. Moroney, Pat Galvin, Finn Callinan, Martin Hedderman, James Mc Mahon, Michael Currane & Senan Currane.
The Intermediate Final was played in November at Cooraclare between Coolmeen and Leitrim and the final score was Coolmeen 1-4 Leitrim 0-2.
Team: Paddy Mc Namara, James Mc Mahon, Sean Duggan, Johnno Finucane, Patrick Griffin, Eamonn Cotter, Michael O'Grady, Jim Anglim, Dan Finucane, Senan Currane, Martin Hedderman, Gerard Considine, Sean Hourigan, Pat Galvin and Michael Browne.
Sub. Sean Keogh for Jim Anglim.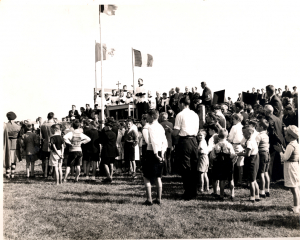 Official opening of Park, 1959.